With farming embedded deeply in its roots, Cowichan Exhibition Park remains active in agricultural practices.
Hay, Oats, Apples and Birds
There are 35 acres of grassy fields where a healthy hay crop is grown and baled once a year. The bales are mainly sold, but some are kept so we can assemble the hay maze that we have in our Kid's Corral at the fair each year. The Duncan Vintage Machinery Club plants a field of oats annually. Using an old pull-type combine, the oats are harvested in the early fall, tied in bundles and propped up in the field for pick up. The bundles are then fed through the old-fashioned threshing machine in the antique farm machinery demonstrations during the fair.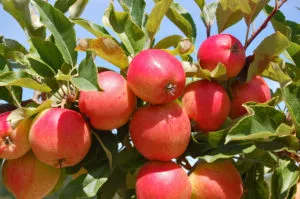 Adjacent to the oat field is our apple orchard, where varieties include Cox's Orange, Red Gravenstein and Spartan apples. While most of the apples are shared amongst the volunteers at the grounds, our apples have also been entered in the fair as well!
From Spring to Fall you may notice approximately 25 birdhouses around the property. They are meant to attract various bird varieties found in the Cowichan Valley. The majority of the houses are built for the common tree swallow, violet-green back swallow and the English House Sparrow, but a handful of the birdhouses are also built for the bluebirds. In the early summer, you may also find the cliff swallow nestled in the eves of the Light Horse Barn and Barn #3. The healthy bird population at Exhibition park helps to keep the number of mosquitos, flies and other biting insects down.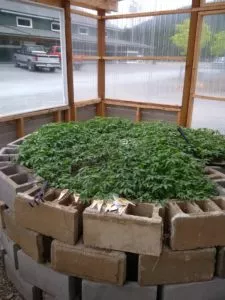 Keyhole Garden
A more recent addition to the grounds has been our "key-hole" garden. The idea for keyhole gardens was developed in Africa where resources like water are harder to come by. Planting crops in a circular pattern, instead of in rows, allows more food to be produced in a tighter space. As the plants grow closely together, they form a natural canopy that helps to stop moisture evaporation. The centre of the keyhole garden is a perfect basket for kitchen scraps and other compostable materials which provide nutrients to the plants and reduce greenhouse gasses.
We grow two main heritage varieties of tomatoes in our keyhole garden: Bonny Best and Money Maker. They are developed for unheated greenhouses and are able to thrive in the keyhole environment. Additionally, we are currently growing two varieties of cherry tomatoes: Black Cherry and Tiny Tim. We have also successfully grown a variety of cucumbers and squash as well.
Due to the incredibly porous soil in the garden, hand watering the garden often resulted in overwatering. A the mini sprinkler system is on for 3 minutes twice a day and provides all the water needed! Nasturtium has also been planted down the sides of the garden to repel pests from the tomato plants.
Vertical Garden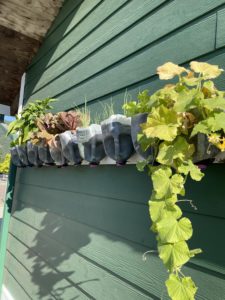 On the south end of the light horse barn we have created a small demonstration of a "Green Wall" or "Vertical Garden." This one is made with 4 lt. milk jugs but you can also use 2 liter pop bottles or even old gutters. A drip irrigation is a must when you are using containers this small. By experimentation we have found that 3 minutes twice a day is sufficient. Ours at the Exhibition cost less the $50 and can be used for many years.
Most of the plants used are developed for container growing. We have Patio Snacker cucumber, Massai French bush beans, Tom Thumb (and other) lettuce, Hungarian Yellow Hot Wax and California Wonder peppers, and Kincho scallions. At home I have had a lot of success with Tumbler tomatoes and other cucumber varieties. Green walls also lend themselves to growing herbs and greens other then lettuce.
Vertical gardens can also be grown of a fence and are only limited by your imagination.
4-H Clubs and Livestock
The Cowichan Exhibition has always been a strong advocate for the 4-H program in the Cowichan Valley and hosts a variety of 4-H events at the facility. From beef, dairy, horses, sheep and rabbits, to sewing, photography, outdoor living, dogs and small engines, the 4-H clubs have always had a place at Exhibition Park as the program seeks to promote agriculture and teamwork in the valley's youth and across the province.
Cowichan Exhibition Park has also been a top choice for hosting a variety of other Agriculture and livestock events. The Islands Agriculture Show has been held here on multiple occasions and is the largest agricultural trade show on Vancouver Island. The show provides a venue that brings farmers, land owners, equipment dealers, service providers and the general public together to learn and connect. The show also welcomes 500 elementary school kids on "Young Farmers Day" so they can learn about safety as it pertains to farm, fire, water and electricity.
Our facilities are well-suited to beef, dairy, sheep and goat shows, as well as several dog shows, hosted by kennel clubs in the area, hold events at the grounds each year. Our horse barn, featuring indoor and outdoor stalls, and a large horse ring are home to events and clinics hosted by the Cowichan District Riding Club, and have also been used for private horse events and the RCMP Musical Ride.
Agriculture is definitely alive and well at Cowichan Exhibition Park!