Save the Date for our 12th Annual Christmas Market!
Mark your calendar for the 12th edition of "Deck the Hall", the Christmas Market held at the Cowichan Exhibition Grounds. Since 2012, the market has grown from 50 vendors and the popularity of the show and demand for booths has surpassed all expectations. New this year, we are excited to host the market for 3 days! The market welcomes over 100 artisans from all over Vancouver Island and is the perfect opportunity to get your Christmas shopping done while supporting local businesses. From jewelry, textiles and accessories, to hand-crafted wooden signs, pottery and food items, there is sure to be something for everyone on your list, even your pet!
Admission to Deck the Hall is free and there is a concession on-site. Be sure to enjoy some tunes by local musicians to get you into the holiday spirit and don't forget to enter the draw for a door prize. It's an event you won't want to miss!
---

2023 Vendor Registration
The Vendor Registration Package is available! The package outlines everything you'll need to know as a vendor, including: the rules and regulations for setup and tear down, booth sizes, vendor rates and the customer appreciation draw.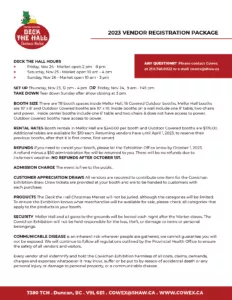 Any questions? Email cowex@shaw.ca
---
Vendor Promotional Material
We are happy to provide you with some promotional material to distribute for the 2022 Christmas Market. Invite your clients, friends and family by handing out one of our Deck the Hall Business cards or add to your social media platforms to let people know you'll be here! Hang up a poster in town and be sure to share the event through Cowichan Exhibition social media as well as your own!
**Stay tuned closer to DTH 2023 for updated promotional material**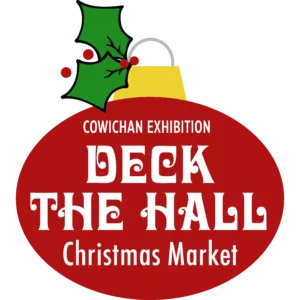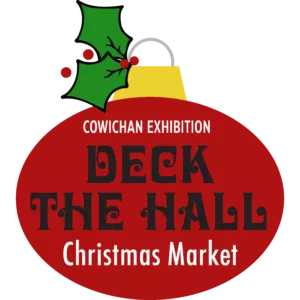 Deck the Hall Logos – White or Black
---
2023 Vendor List
**Stay tuned closer to DTH 2023 for an updated vendor list*
---
Photo Gallery
Click to Enlarge
---
Testimonials
"I have attended the Cowichan Exhibition and Deck the Halls for 3 years and are always the highlights of my year. The vendor locations are spacious, clean and well lit. The volunteers are out early in the morning taking care of the garbage and general cleanliness; not to mention they are super friendly and always asking if us vendors need a break or if we need setting up/tearing down. Shari, the master co-ordinator, never fails to amaze me. She organizes everything so perfectly that both events always go off without a hitch. I am certainly grateful to everyone at the Cowichan Exhibition for all they do to make these events so enjoyable for everyone!"

~Amanda Kiezebrink from Scentsy
"I have heard many great comments on how people have said to me since the fair that this was the best craft fair they had been to this season. Lots of variety and fairly priced upper scale crafts and goods at this event and how they just kept going around to make sure they had seen it all. Job well done!"

~Rhonda Richard – Wanna Crafts Country