Save the Date for our 9th Annual Christmas Market!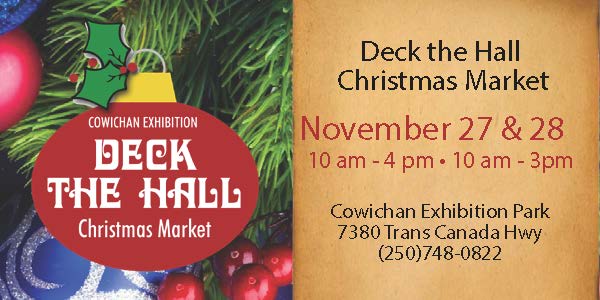 Mark your calendar for the 9th edition of "Deck the Hall", the Christmas Market held at the Cowichan Exhibition Grounds. Since 2012, the market has grown from 50 vendors and the popularity of the show and demand for booths has surpassed all expectations. The market welcomes over 80 artisans from all over Vancouver Island and is the perfect opportunity to get your Christmas shopping done while supporting local businesses. From jewelry, textiles and accessories, to hand-crafted wooden signs, pottery and food items, there is sure to be something for everyone on your list, even your pet!
Admission to Deck the Hall is free and there is a concession on-site. Be sure to enjoy some tunes by local musicians to get you into the holiday spirit and don't forget to enter the draw for a door prize. It's an event you won't want to miss!
---
2021 Vendor Registration
The Vendor Registration Package is available! The package outlines everything you'll need to know as a vendor, including: the rules and regulations for setup and tear down, booth sizes, vendor rates and the customer appreciation draw.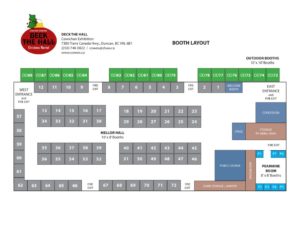 ---
Vendor Promotional Material
We are happy to provide you with some promotional material to distribute for the 2021 Christmas Market. Invite your clients, friends and family by handing out one of our Deck the Hall Business cards or add the website badge to your website and social media platforms to let people know you'll be here! Hang up a poster in town and be sure to check out Santa's Social Media Checklist, to share the event through Cowichan Exhibition social media as well as your own!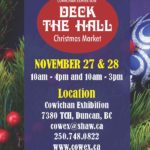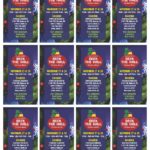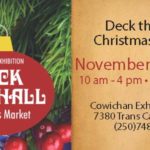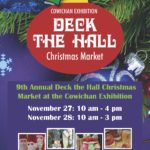 ---
2019 Photo Gallery
Click to Enlarge
---
2019 Vendor List
3J's Smoke House Island Jerky
A Stitch In Time
AB Crochet
Al Lundgren – Segmented Wood Bowls
Anchored by Arlene
Andean Treasures
Be In Harmony Design
Beauty Revisited
Billie's Creative Way
Bruce Markstrom – Wood products & jewelry
Catch A Star Studio
Cowichan Valley Cleaning Services
Creative Natives
Croaked Crow Art House
Crochet Eh
Danielle Peacock – Bath Soaks & Jewelry
Der Zaster Designs
Dilla & Doyle
Discovery Ceramics
Donna Knapp – Hand Crafted Leather
Ed's Soup Shack
EMS Body Products
Epicure
Farm to Forest Pebble Art
Give a Little Giggle Puppet Designs
Global Initiatives Fair Trade
Grandma's Little Things
Helen Hogan – Baked Goods
HillBilly Granola
Honey Pot Wraps
Howie Harris – Native Carvings
I Be Jammin
Imagine Camping
Ingrid Bendicks – Hand Crafted Decor
Irene Hudak – Jewelry and Textiles
Isla Vida
Island Guy With Chai
Island Life Soap
Island Sales – Reversible Umbrella's
Jean Hamilton – Photo's & Knitting
Jilly's Jam's & Jellys
Judy Nikirk – Knittig
Kandy Miles – Knit Crafts
Kat Stubbs – Fairy Garden
Kloosterman's Farm
Krystal's Kakes & Treats
LeafFilter
Lin's Fashion Jewelry
Little Hen Jewelry
Loretta Ball – Food & Textiles
Margaret Goodwin Photography
Mrs. Freeman's Enchanted Garden
Muscle Check
My Healing Cuisne
Naomi's Glass
Nielsen's Honey
Norwex
One More Bite
Pacific Siren Knits
Pampered Chef
Pam's Pottery
Pok-a-dot Creations
Pretty Little Things Crochet
Pure Radiance
River Road Rags
RMarket Productions
Scentsy
Schlatgut & Darcy's Paper
Sew This Quilt That
Shelter Bay Designs
SSI Glassworks
Sticks N Staves
Stixx N' Stonze
Sweets 4 U
Teresa Chrusciel – Christmas Decor
The Country Road Custom Signs
The Dope Soap & Co.
The Grateful Pooch
The Olive Station
Tin & Feather Mercantile
Tisket A Tasket Baskets
Top Drawer Designs
Toque N' Up
Tuesday Silver Gerlz
Tupperware
Venus Rose Women's Wellness
Whims N Prims Christmas
Write Nature – George Mercer
Young Living/ Sole Purpose Reflexology
---
Testimonials
"I have attended the Cowichan Exhibition and Deck the Halls for 3 years and are always the highlights of my year. The vendor locations are spacious, clean and well lit. The volunteers are out early in the morning taking care of the garbage and general cleanliness; not to mention they are super friendly and always asking if us vendors need a break or if we need setting up/tearing down. Shari, the master co-ordinator, never fails to amaze me. She organizes everything so perfectly that both events always go off without a hitch. I am certainly grateful to everyone at the Cowichan Exhibition for all they do to make these events so enjoyable for everyone!"

~Amanda Kiezebrink from Scentsy
"I have heard many great comments on how people have said to me since the fair that this was the best craft fair they had been to this season. Lots of variety and fairly priced upper scale crafts and goods at this event and how they just kept going around to make sure they had seen it all. Job well done!"

~Rhonda Richard – Whims N Prims Christmas