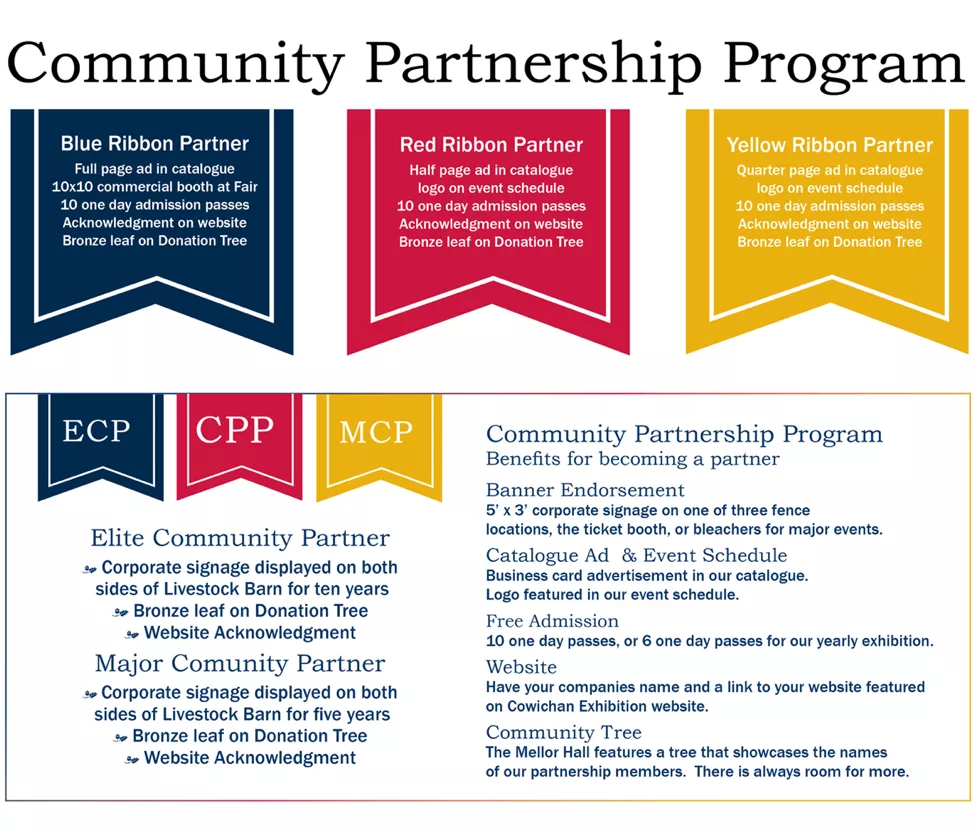 Community Partnership Program Member Benefits
Elite Community Partner

(Blue Ribbon Partner)
Corporate Signage displayed on both sides of the Livestock Barn for ten years
Bronze Leaf on Donation Tree
Website Acknowledgment
Major Community Partner

(Red Ribbon Partner)
Corporate Signage displayed on both sides of the Livestock Barn for five years
Bronze Leaf on Donation Tree
Website Acknowledgment
Community Partnership Program

(Yellow Ribbon Partner)
Banner Endorsement
5"x3" corporate signage on one of three fence locations, the ticket booth, or bleachers for major events.
Catalogue Ad & Event Schedule
Business card advertisement in our catalogue.
Logo featured in our event schedule.
Free Admission
10 one-day passes, or 6 one day passes for our yearly exhibition.
Have your companies name and a link to your website featured on the Cowichan Exhibition website.
---
We have been growing for the past 155 years! A huge Thank You to the following individuals, businesses and families for their significant contributions of money and/or skills and time to the Cowichan Exhibition.
To add a Bronze leaf to our tree in Mellor Hall, please contact the office.
---
Thank you to our 2023 Corporate and Hall Sponsors!
4H Canada
89.7 Sun FM
Abbeyfield House of Duncan
Alison Irwin
All Tied Up
Arbutus Café
A&W Restaurant
Bank of Montreal
Beverly Corners Show and Shine
Black Fin Extracts
Blackberry Port Quilters
Brenda Campbell
Buckerfield's
Bud James
CVRD
Chris Van Ihinger
City of Duncan
Coast Roofing
Cowichan Beekeepers
Cowichan Petroleum Sales
Cowichan Valley Camera Club
Cowichan Valley Citizen
Cowichan Valley Heritage Quilters
Cowichan Valley Naturalists' Society
Cowichan Valley Needlearts Guild
Cowichan Valley Stamp Club
Dinter Nursery
Dobson's Glass LTD.
Dorothy Sjostrom
Doghouse Restaurant
Drillwell Enterprises LTD.
Eatin's Canada
Esther Craig
Excellent Frameworks
Fabricland Black Sheep Quilt Shop
Farmer Ben's Eggs
Frances McDonnell
G. Doran & Sons Plumbing & Heating
HSM Insurance
Harbour City Equipment
Heather Bertrand
In Memory of Donna Riddler
In Memory of Joan Mayer
In Memory of Margaret Mitchell
Irene Evans
Island Gem and Bead Supply
Island Tractor & Supply
Jacki & John
Jan Dwyer
Jordan River Logging LTD
Juice FM
Just Framing
K.Ben Buss
Leon Signs
Live Edge Design Duncan
Lois MacMillan
London Drugs Duncan
MNP
MaxxCan Insurance Services LTD
Monk Office
Municipality of North Cowichan
NG&D Society
Nanaimo Gladiolus and Dahlias
Onsight Tree Services
Papa Joe Organics
Poland Cranes
Printmakers Only Group
Reid's Agricultural Services
Robbin Olive
Rockside Enterprises LTD.
Russell Farm Market & Garden Centre
Shar-Kare Feeds & Pet Supplies
Snip and Stitch Sewing Centre Nanaimo
Station Street Café
Station Street Gallery and Frame Shop
Stihl Tools
The Loom at Whippletree
The Mud Room
The Old Farm Market
The Province of British Columbia
The Red Balloon Toy Shop
Thermoproof Windows and Doors
Tim Hortons
This Ride 4 U
Thrifty Foods
Top Shelf Feeds
Traveland RV – Cowichan Valley
Troll Brothers Quilts
Tzouhalem Spinners & Weavers Guild
Vancouver Island Event Catering
Veuger Bros Construction Inc.
Warmland Calligraphers Duncan
Westcoast Amusements