Cowichan Exhibition Park is a great option for the bride and groom who are looking to create a unique wedding experience. Our spacious main hall and rustic barns are a blank canvas ready to be transformed into the wedding of your dreams! The ceremonial field is surround by scenic mountains, making it a picturesque "Cowichan Valley" backdrop.
Rental Facilities
---

Mellor Hall
A Multi-purpose facility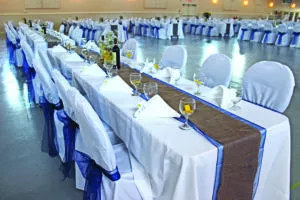 Guests : up to 1477
Size: 170′ x 80′
Features:
• Commercial Kitchen
• Sound System
• Natural Lighting
• 14′ Roll-up Door
• Wheel Chair Accessible
• Tables and Chairs for 450
• Superior Interior Lighting
• Window Blackouts
• 8′ and 6′ Rectangular Tables
• Banquet Chairs
• Portable Bar Freezer for Bar
Offers:
This multi-purpose hall holds up to 1477 guests. This venue comes complete with a commercial kitchen, sound system, 14′ roll up door for easy loading, ample tables and chairs and beautiful natural light. Parking is plentiful and wheelchair accessible.
Guy Wires: 8 wires, 10 lbs. weight limit, 26 feet apart & 16 feet above the floor
---

Field
Surrounded by scenic mountains
Size: 35 acres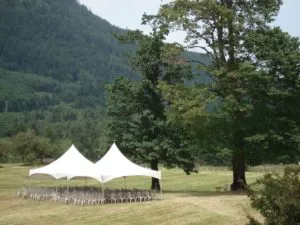 Features:
• Shady Trees
• Open Space
• Scenic Backdrop Privacy
• Road Access
Offers:
There are 35 acres of grassy fields surrounded by scenic mountains and shady trees. It's easy to get inspiration from this beautiful backdrop for an unforgettable outdoor wedding.
---
Three Barns
Affordable wedding accommodation

Size: 100′ x 30′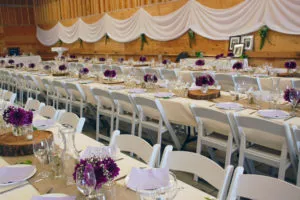 Each Barn Holds up to 150 guests
Features:
• Open Layout
• Level Parking
• Mountain View
• Electricity and Lights
• Private Location
• Wheelchair Accessible
Offers:
The Park has 3 barns to choose from, each one holds up to 150 guests. A perfect venue for a reception or ceremony. Drape the rafters to turn the barn into a magical room to host your special day.
---

Wedding Rentals
Add a personal touch
The Cowichan Exhibition has a variety of items available to rent for your wedding.
Here is a list of the amenities available.
Rentals: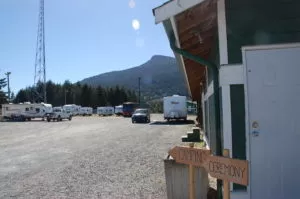 • Table clothes
• Cloth napkins
• Chair Covers
• LED mini lights
• Chandelier
• Pipe and Drape Stage
• Dishes
Camping: $20 plus gst for overnight camping
---
Contact Our Office: Have a question?
Feel free to contact our office Monday to Friday 9:00 am to 4:30 pm at 250-748-0822 or email us at cowex@shaw.ca
Our wedding venue is located 15 minutes outside of Duncan, British Columbia in the Cowichan Valley.
---

Wedding Photos
Every wedding is a unique story
Click to Enlarge