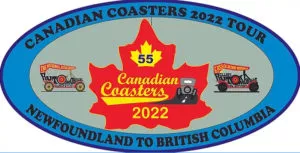 The Canadian Coasters are finishing up their cross-country tour at Cowichan Exhibition Park this weekend! The Coasters, who make the trans-Canada journey in their vintage auto's every 5 years, began their 2022 tour on June 30th. That day they dipped their wheels in the Atlantic and headed west!
The Coasters will hit Vancouver Island and make their way to Duncan on Sunday, September 4th.
The gates will be open to the public on Monday, September 5th from 1pm-4pm. Come down and meet the Coasters and see their vehicles! All are welcome and admission is free! Bring your own vintage auto too if you have one! They would love to see you!