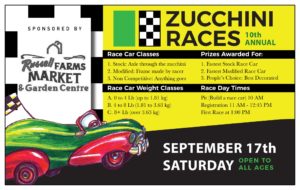 The Zucchini Race is back at this year's fair! This event is open to ALL AGES!! The race will take place on Saturday, Sept 17th, at 1 PM! Registration will be open from 11 AM-12:45 PM.
There are 3 Race Car Classes:
1) Stock: Axle through the zucchini
2) Modified: Frame made by racer
3) Non Competitive: Anything goes!
If you are 12 and under and are one of the first 25 kids to meet the Pit Crew at 10 AM, we will supply you with a zucchini, wheels, axles and decorations! Everyone else, please bring your zucchini ready to race!
Check out the video below for ideas!